That's right, it's Wednesday again (thank God this week is already 1/2 over) and
I'm linking up with Shannon over at "Life After I Dew"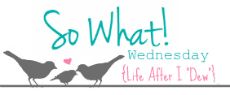 This week, I'm saying "So What!" if...
~ I took yesterday off from work because Olivia was sick and up 1/2 the night before.
~ I can NOT wait for this week to be over since I'm on vacation next week.
~ I ate a Reese's peanut butter heart at 7am today.

don't judge.
~ I'm totally obsessed and sad that Teen Mom 2 is almost over.
~ Jersey Shore is getting to the point that its embarrassing to watch.
They're a bit old to be acting that foolish.
~ I got SO excited that Vera Bradley sent me a $20 of $20 coupon!
I live near the VB outlet and they have great deals!!! I cant wait to go there this weekend.
~ I'm rearranging Olivia's whole room to fit her new kitchen set.
She's going to love it...

(read: she BETTER love it!)
That's all I have today... go check out Shannon's blog and link up for SWW!