Follow my blog with Bloglovin
1. If calories didn't count, I would eat...
Fritos and Doritos - these 2 are my favorite snacks and even though I don't really miss them, I do remember how much I like them! Since I'm on Weight Watchers those million point snacks aren't on my menu anytime soon.
2. On my Prom night....
I was stood up. Yup, it's true. Last minute my date canceled. It's ok, he was a dud anyways. I called my best friend (who didn't go to the same school) told her to grab her old dress and come over because "we were going to prom together!" She did just that and we had an awesome time.
3. When I go to the store, I always buy...
something for my daughter. It's usually a little something from the dollar section of Target so it's not too expensive.
4. Family functions typically...
HA. If it's just my family, they stay small. I'm an only child and a lot of my immediate family live about an hour away so we usually stay home. If my husband's family joins then it gets a bit chaotic. Ad 2 more kids to the mix the volume just increases tenfold. There's usually tears from my MIL and not good ones and someone always ends up mad at the end. Ya know, typical functional dysfunction.
5. I think my blog readers...
are awesome! I love when I can connect when people comment. I always email back and converse. That's one of the reasons I love blogging so much.
6. I'd much rather be...
on vacation. My family and I love to go away. Whether it's to New Hampshire or Maine or someplace new, we just love exploring and seeing new places.
7. I have an obsession with....
Jesus. I'm still in the learning phase of my Christianity and learning about Him, His life, His love and the bible is just amazing to me.
8. My work friends....
are new. I'm switching positions as we speak and I haven't really established friendships with anyone yet. My schedule is kind of wonky because of mine and my husband's opposite shifts so I'm usually not in the office when my team is.
9. When I created my Facebook account....
I had no idea how addicting it would be.... and how much like high school it could be.
10. My least favorite word is...
divorce. It's something I fear since the statistics are so high but my husband and I take our marriage vows seriously and do everything and anything in our power to stay in love.
11. I really don't remember....
a lot of my childhood. I remember big events but I think that's just from seeing pictures and I don't have a lot of my own memories. It's weird because life was pretty normal so I dont understand why.
12. Justin Bieber....
is ok.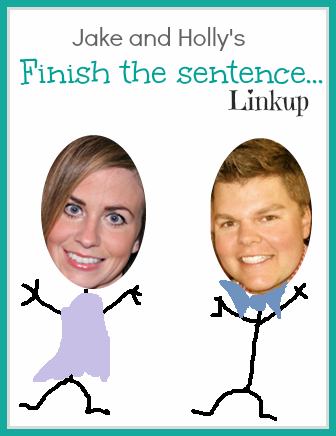 Head over to Holly or Jake's blog to link up!