I've been reading her blog for a couple of months now and I assure you, you'll love it!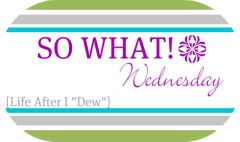 This week I'm saying "so what if..."
last night I was so tired, I curled up on the floor and dozed off while Olivia played around me.

the only reason I woke up is because she dropped a book on my head.

I went to sleep at 8:30 and left the dishes in the sink for my husband to take care of.

I'm considering taking a vacation day on Friday to have a 4 day weekend.

I put my hair up in a bun this morning because I couldn't be bothering fixing it.
So, what are you saying "so what?" to today???
~Laura