I'm linking up with Shannon @ Life After I Dew for So What! Wednesday.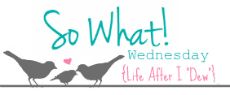 Today I'm saying So What! if.....
...I bared my soul in yesterday's post and it felt so good to get all my struggles out of my head!
...I contemplated deleting yesterdays post about 386,973 times.
...I'm obsessed with trashy reality TV, my favorite being Teen Mom 2.
...I need a new hair straightener since like 2 years ago but haven't bought one because I never do my hair.
...I'm going to buy a new one this weekend because I need to do more for myself.
...I put Olivia down for a nap yesterday and she slept for 3 hours...and so did I.
...I wore jeans and sneakers to work today because it's cold and I wanted to be comfy!